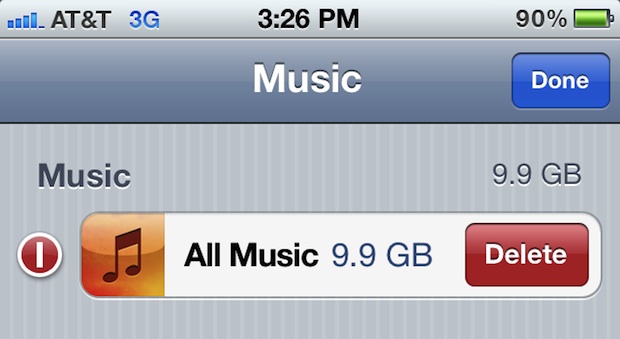 You probably know by now that you can delete songs on an iPhone, iPad, or iPod touch, just by swiping on a song and tapping "Delete", but what if you want to remove all music from an iOS device? That can be done too, and although it's a few settings deep to prevent accidental access, it's easy to do in just a few steps.
Tap on "Settings" and tap on "General"
Select "Usage" and tap on "Music"
Tap the Minus symbol next to "All Music" then tap on "Delete" to remove all songs from the device
The total storage space taken up by the music collection will be listed alongside the "All Music" label, letting you know how much space is about to be freed up by removing all the songs.
Just remember, there's no going back if you choose to do this without resyncing to iTunes or downloading songs again from iTunes Store or iCloud. Also keep in mind that if you have iTunes Automatic Downloads enabled on the device, any future music downloads on other iOS devices will continue to copy over to the once cleared out list.